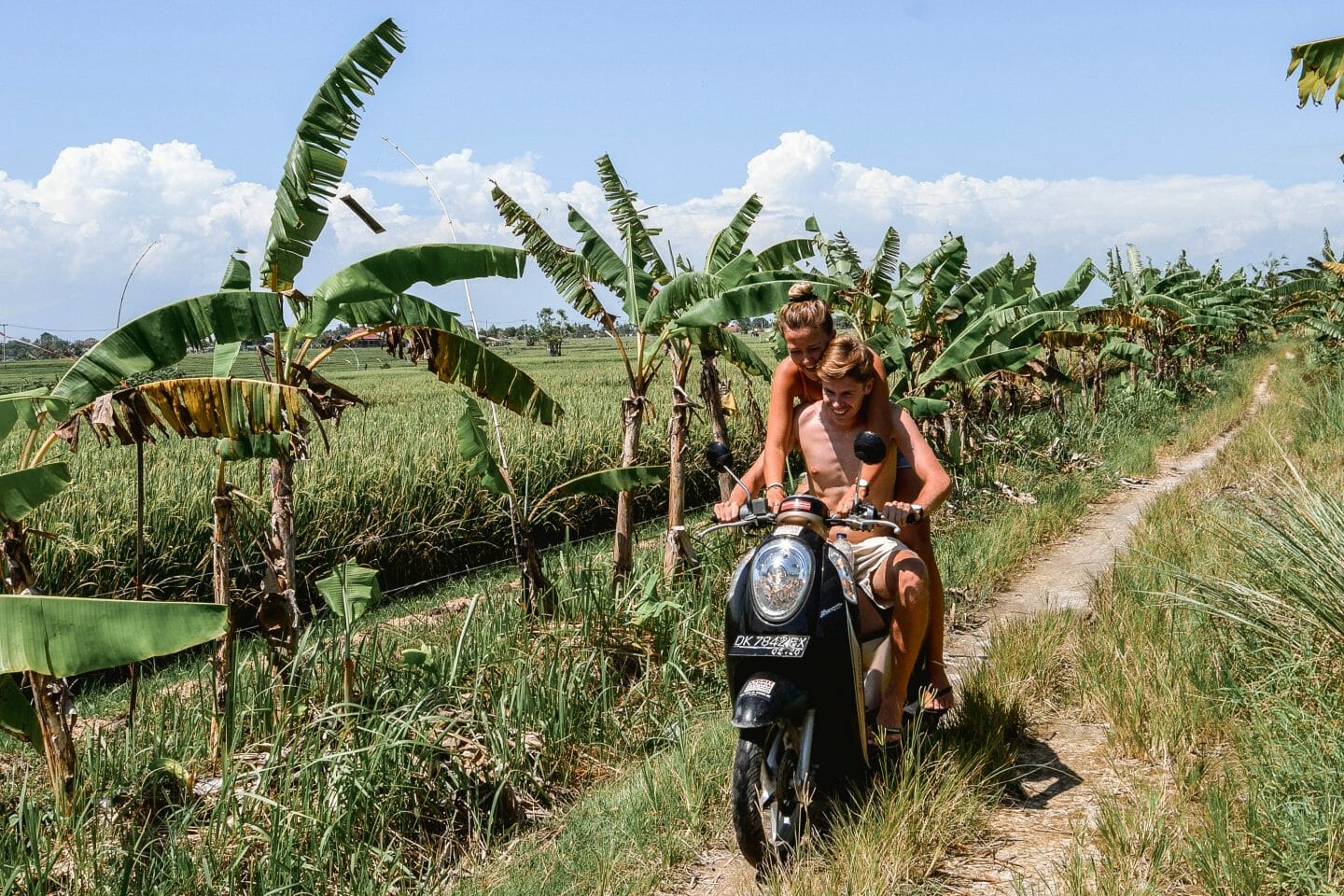 Best Things To Do in Canggu – The Ultimate List
Canggu clearly stands alone as the coolest place to hang in Bali. Full of hipster cafes and surfers, here are our top 13 things to do in Canggu Bali.
BEST THINGS TO DO IN CANGGU – THE ULTIMATE LIST
Travelling to Bali? Don't leave without travel insurance! Read our Travel Insurance Guide or click HERE to get a quote.
What To Pack? We've put together our Ultimate Travel Packing List for every type of trip.
1. ENJOY THE CAFES
By far one of the best things to do in Canggu is compile a list of all of the popular food spots.
From smoothie bowls to avocados, Canggu is healthy food heaven and there are limitless hipster cafes and wall murals to get around.
A few of our favourites are Garden Canggu, Bali Bowls & Smoothies and Nude Canggu!
2. EAT IN THE LOCAL WARUNGS
A 'warung' is a local restaurant in Bali.
So as a switch up from the smoothie bowls and avocado, you have to do it like the Indonesians do at some point.
Indonesian food is some of the best vegetarian food you will eat. Plus it would be rude not to try their amazing home cooked goodness in their local warungs. Just try not to get too addicted to the tempe!
3. TANAH LOT TEMPLE
The famous Tanah Lot Temple is definitely an iconic spot in Bali not to be missed.
You can get personally blessed by a monk and learn a little about the Hindu culture. It's one of the most famous temples on the island and a perfect day out in the sun.
Just be sure to watch out for the monkeys along the way!
4. SHOP, SHOP, SHOP
Batu Balong, the main road leading through Canggu, is a shopaholics heaven.
From bikinis, to board shorts there is everything you can think of for both genders in this surfers paradise of shops. After all how shopping not be one of the best things to do in Canggu.
Also, there are three main markets held in Canggu. Love Anchor, Samadi Bali and Old Man's. They're all different in their own kind of way. So they are a must visit if your stay in Canggu lands on the days they're run.
5. LEARN TO SURF
Of all the places in the world to learn how to surf, Bali was up there for us.
The best place to learn in Canggu is at Echo Beach, where beginners tend to head daily.
We couldn't not take a surfing lesson. It was such a fun experience and made us really want to rent our own board and get out and practice more and more.
Definitely add it to your things to do in Canggu list is you haven't already!
6. CATCH A SUNSET
If you're a sunset hunter like us then this is high on the things to do in Canggu
Bali is known for its killer sunsets and Batu Bolong Beach is the hub most people in Canggu gather every evening.
There's always grilled corn on the go, a beach full of happy faces and laid back vibes everywhere. Plus if you catch a good night you could witness the pinkest skies you've ever seen.
7. RENT A SCOOTER AND EXPLORE CANGGU
One of our favourite things to do in Canggu!
When you arrive in Canggu, it's a no brainer to rent a scooter. As long as your safe and confident, you can explore all Canggu has to offer and the surrounding areas. Pererenan, Berawa and even Seminyak and Kuta are worth a trip. Time and time again we ended up in perfectly presented rice fields or some cool as palm tree roads.
8. RIDE THE CANGGU SHORTCUT
This infamous, narrow cobbled 'road' is a 4 wheeled vehicle's nightmare.
Rightly named, it literally is a shortcut between two popular roads that run parallel to each other in Canggu. If you're confident on two wheels its an experience in itself although please be careful…we've seen many a tourist end up in the rice paddies!
9. SEARCH THE CANGGU STREET ART
Not one of the most known things to do in Canggu, but over the 6 months we spent there we saw a lot of it!
What would a town full of creatives be without walls covered in amazing art! Get your cameras ready if you go exploring because you'll see everything from giant avocados, to monkey murals and maybe even this bright blue octopus!
10. HOP THE BARS
Canggu is the best place in Bali for hanging out with friends or catching a drink come the evening.
With some of the most popular spots such as La Laguna, Finns Beach Club or The Lawn serving as awesome places to watch the sunset. We guarantee you'll spend hours chatting away amongst the fairy lights.
11. PRETTY POISON
This famous skate bowl is a huge hit on Tuesday's and Thursday's.
With open mic nights, some crazy parties and obviously the pros flying around on skateboards, this is a place well worth a night out!
If you want a party then add Pretty Poison to your things to do in Canggu list!
12. OLD MANS
If you're looking for the busiest bar in town, then this should definitely be on your list of things to do in Canggu.
Visit Old Mans on a Wednesday for the famous beer pong tournaments or any other night for a late one.
This restaurant come bar also hosts a once a month Saturday market, where local start ups display their awesome clothing, jewellery or foods which if you're around on the last Saturday of the month is well worth a visit!
13. WATERBOM BALI
Ok so it's not really in Canggu but we had to let you know about Waterbom Bali.
It's located in Kuta and about a 45 minute drive from Canggu. If you fancy something a little different and are big kids like us then you'll love Waterbom!
WHERE TO STAY IN CANGGU
Luxury – Theanna Eco Villa and Spa – One of the most highly rated hotels in the area! Set in Canggu, a 6-minute drive to Echo Beach, Theanna Eco Villa and Spa offers villas with private pools. Guests can enjoy pampering massages at the spa centre. The villa also provides free use of bicycles and free shuttle service to the surrounding areas. Free WiFi is accessible throughout the villa and the whole setting is beautiful.
Mid-Budget – Frii Hotel – Perfect location and just off the main road, this hotel is definitely a spot of luxury at a reasonable price. Rooms here will provide you with a flat-screen TV with cable channels, air conditioning, minibar and electric kettle. The rooms also feature an en suite bathroom with shower, which comes with slippers and towels. Some rooms have sea view or pool view.
Budget – The Hideout Hostel – Situated in the Pererenan district of Canggu, The Hideout Hostel provides free bikes, an outdoor swimming pool and a garden. Among the various facilities are a terrace and a shared lounge. There is a restaurant. The units in the hostel come with a coffee machine. The rooms come with a seating area.
source: https://wanderersandwarriors.com/things-to-do-in-canggu/